One part mini-broccoli and one part greens, broccoli rabe is a double duty vegetable. If you're like me, for years you had heard of broccoli rabe and thought to yourself, "Who's this Broccoli Rob?" So if this is your first encounter with it, don't fret and prepare to fall in love with Broccoli Rob! As we mentioned in the Crop Share spoiler e-mail, broccoli rabe is fantasmagorical when sauteed and tossed with pasta, especially when some manner of sausage is involved. In the past, I'd worked off of a Williams-Sonoma recipe that wanted me to use enough salt to choke a camel, but this one from
A La Mode
requires only salt to taste and is easily modified for any individual tastes or dietary restrictions. And look at that photo! Is it wrong to try and poke your computer screen with a fork?
Orecchiette With Sausage And Broccoli Rabe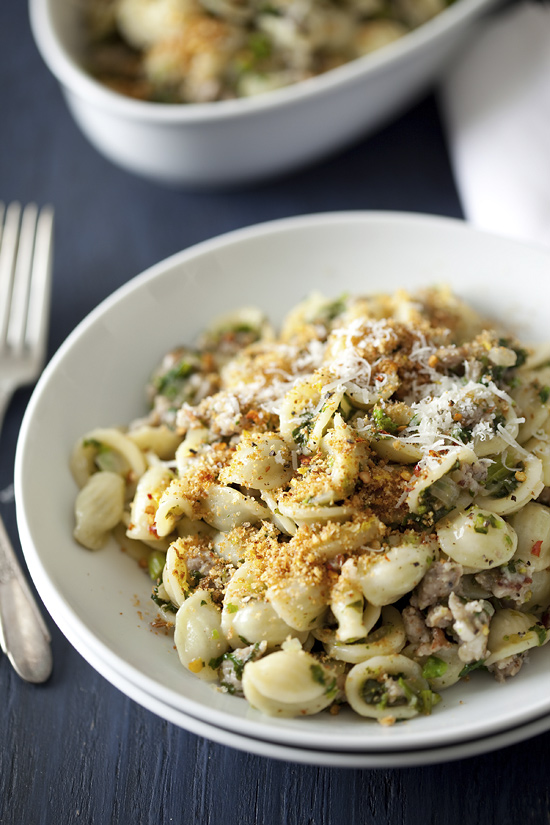 Ingredients:
1 lb orecchiette pasta
1 lb Italian sausage, casing removed (can sub in turkey sausage for a lighter version)
1/2 yellow onion, diced
1 Tbsp olive oil
Pinch of red pepper flakes
3 cloves garlic, minced
1 large bunch of broccoli rabe, cut into two sections
1 lemon, zested & sliced in half
1/2 cup grated Grana Padano or Parmigiano Reggiano
For breadcrumbs:
1 Tbsp butter
1/2 cup dry breadcrumbs
Zest of lemon
We've got plenty of lemons and onions on hand, so be sure to pick them up this weekend for this recipe!